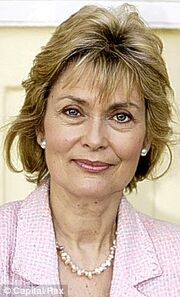 Alexandra Lendon Bastedo (Born March 9, 1946 in Hove, East Sussex, England, UK; died 12 January 2014[2]) was an English film and television actress. As well as acting, Ms. Bastedo also ran an animal sanctuary.
Patrick Garland (September 1980 - April 2013)
[3] Appeared on the cover of the album "Rank" (1988) by the British alternative band The Smiths. The image originally appeared in the book "Birds of Britain".
Gained 9 GCE O-levels and 4 A-levels at school
She had two younger siblings, Penelope and Lindsay born in Sussex in 1948 and 1950.
Alexandra and her husband, Patrick Garland (who died in 2013), were long-standing friends of England's Prince Charles.
References
Edit